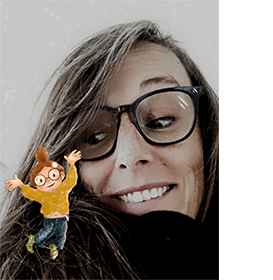 My whole life I've been a bit of a creative kind of person.
I always loved to make up stories and re-enact them with my friends. Not as in a role-playing game like Dungeons & Dragons, no, we really dressed up and became those heroes.
In the times I didn't meet up with my friends, I loved drawing and reading books. So most of the time I dreamed myself away and in my mind I lived a thousand lifes.
My professional life took over and my creative life was more and more narrowed down to a few minutes a week. Then one day I had an epiphany and quit my job.

"Do everything with so much love in your heart that you would never want to do it any other way."

Yogi Desai

I started doing an online course of studies which gave me more space to free my mind and let my creativity flow again. So I finally came back to my favourite passion – drawing.
I don't even know how I could've lived without all these years.

Illustrations from the Heart
I love creating from the heart, this is how my illustrations come together. An image arises in my head and more and more details occur.
This image in my head wants to become an illustration so it needs to get sketched on paper soon, cause another idea already sprouts and grows.
So you'll probably find me with my sketchbook right in front of me.

Childrensbook Illustrations
The most happy I am when I can create some magical worlds where children can explore the surroundings and dream themselves away.
I love how a childrens face lights up and beams when diving into the worlds created especially for them.

Todays ToDo
Be happy!